Exhibition Opening: Sunday October 9th, 2011 from 3:00 PM to 7:00 PM
The opening will be attended by Berry Bickle and Raphael Chikukwa, curator of the National Gallery of Zimbabwe and of the Zimbabwe Pavilion at the Venice Biennale.
The exhibition will run until November 13th, 2011.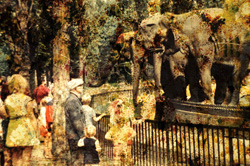 Suite Europa
Nr. 12
We will show two photographic series, Suite Europa and Dual Narratives, along with two films, Ze… and On the Wire. In honor of Berry Bickle's inclusion in the Zimbabwe Pavilion at the Venice Biennale, we will offer a more pointed presentation of her work.
The artist first gained recognition in Germany when she participated in the international travelling exhibition Africa Remix, which began in Düsseldorf. She went on to make guest appearances at the ifa-Galerie in Berlin and Stuttgart with Rencontres Africaines de la Photographie.
Bickle has exhibited in numerous group and solo shows around the world. The video On the Wire, which features Maputo as its backdrop, won the Jury Prize at the Bamako Biennale in 2009. Ze…is a conversation between the artist and Zimbabwe itself; recently shown in Venice, it will now be shown in Berlin.
The photo series Suite Europa takes East Germany and found image templates of Berlin as its starting point. It is being shown for the first time and was conceived specifically for this exhibition. The second series, Dual Narratives, begins by referring to well-known Italian landscape photographer Pietro Pensa, but achieves its own unique interpretations via image editing and processing. In both series, the artist deals with history and a fascination with historical fragments.
Berry Bickle was born in 1959 in Bulawayo, Zimbabwe. Today, she lives and works in Maputo, Mozambique. She studied Fine Art at the Durban Institute of Technology and at Rhodes University in Grahamstown, South Africa.